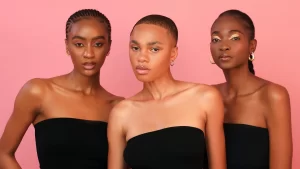 Our Story
Sleek Nigeria offers an exclusive range of expertly curated luxury beauty and skincare goods. With a reputation for delivering high-end makeup and skincare solutions for everyone, especially women of color, Sleek Nigeria remains a beauty industry leader on the continent. With a selection of beauty products luxuriously formulated for skin, eyes, lips, and face, we have elevated beauty standards by applying innovative techniques to deliver a sustainable range of quality products. We are committed to advancing Nigeria's beauty industry and keeping our finger firmly on the pulse of next-generation trends.
ABOUT THE FOUNDER
Dr. Ebele Ugochukwu
In 2007, Dr. Ebele Ugochukwu founded Sleek Nigeria, the African franchise of the popular global makeup brand. Holding a degree in General Medicine from the University of Jos and a Diploma in Practical Dermatology from the University of Wales, Cardiff, her expertise in ethnic skincare and advanced skin training programs has transformed the cosmetic industry in Nigeria. By connecting African beauty gurus with high-grade luxury makeup and skin products, she has evolved the Sleek brand significantly. Dr. Ugochukwu's impact means women of colour have access to Sleek's well-formulated and stylishly packaged products. Her experience with brand building and promotion means Dr. Ugochukwu has succeeded in transforming the makeup brand into a beauty empire inclusive of sustainable skincare, facial spa services, colour cosmetics, training programs and shop rentals. This emphasis on sustainability also defines Sleek PRO Nigeria as a modern brand that's easily adaptable to next-generation trends.
Our Vision
The Sleek Pro vision is rooted in celebrating black excellence and elevating the pan-African beauty sector by bridging the gap between luxury and affordability with dermatologically tested, premium products.
Our Mission
We believe that cosmetics and skincare are an integral part of self-care and part of our mandate at Sleek Pro Nigeria is to ensure that makeup and skincare enthusiasts on the continent have access to the best products and services. Our commitment to fulfilling this promise is backed up with medically sound products that are formulated with knowledge and experience on the needs of ethnic skin. We constantly aim to meet the Sleek Pro customer's need for superior quality by curating a unique experience that leaves you feeling good, looking good, and getting more out of life with every purchase.
Our Values
Here at Sleek Pro Nigeria, we are fully committed to the following values:
Trust
All our products are formulated by experts and enriched with the best ingredients. It's the integrity that we uphold that has helped cement the Sleek Nigeria name as a trustworthy brand.
Quality
Every Sleek Pro product and service comes with the guarantee of the highest possible quality from ingredients right through to packaging.
Accessibility
Through our network of trusted distributors and lavishly established studios at central locations, we ensure that our customers get access to our services and best-selling products at the best prices and without stress.
We value our creative collaborations and actively work with influencers and content creators to grow the Sleek online community.
All our products are formulated with the highest quality ingredients
We promote sustainable practices and are committed to reducing our negative impact on our environment and the beauty sector in its entirety.
We are dedicated to providing easy access to our products and service with extra attention to care and affordability for the best consumer experience.